If you're a modeler on a budget, or a modeler just looking to save some money, then today you're in luck! Revell currently has a sale going on which will get you 43% off when you purchase their 1/35-scale Flakpanzer IV Wirbelwind.
Revell's 1/35-scale iteration of this iconic WWII German vehicle appears to be of utmost quality. It is marked as a "Level 5" on Revell's difficulty scale and comes with 321 parts. Although this may seem intimidating to some newer modelers, I do highly recommend purchasing this kit, as even if you don't build it right away, you can save a lot of money by purchasing this kit now instead of later.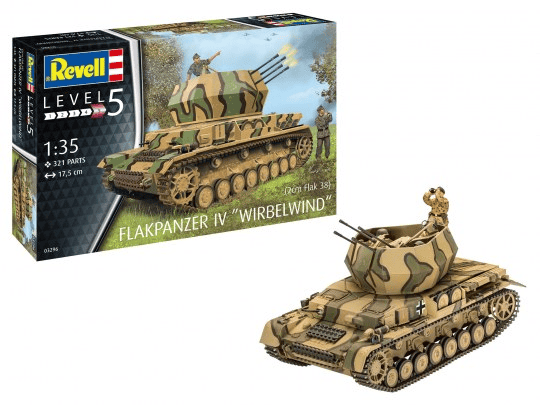 The Wirbelwind is highly detailed and comes with both 1/35-scale figurines and decals for 3 different variations of the vehicle. Also included in the kit are high quality and easy to understand instructions which will make your building process quicker and easier when working on this kit.
Revell's 1/35-scale Flakpanzer IV Wirbelwind normally retails for around $34.99/34 euros at most retailers, but with Revell's current 43% off sale, you can find it available for 20 euros on Revell's website.
Happy Modeling!
Image credit: Revell