In mid-October of this year, Dragon released a brand new, 1/35 scale rendition of the… uh… one second… …10.5cm Kurz Gepanzerte Selbstfahrlafette IV Ausführung A, also known as the "Dicker Max". For obvious reasons, I will be referring to the vehicle as the Dicker Max for the rest of the article; I hope you understand.
Anyways, looking at the kit itself, it can be seen that the kit is rather detailed. Plastic parts are expertly molded, the suspension and drive wheels are made up of complex parts that add a more realistic feel to the vehicle, and a number of scale accessories can all be found with your 1/35 scale Dicker Max.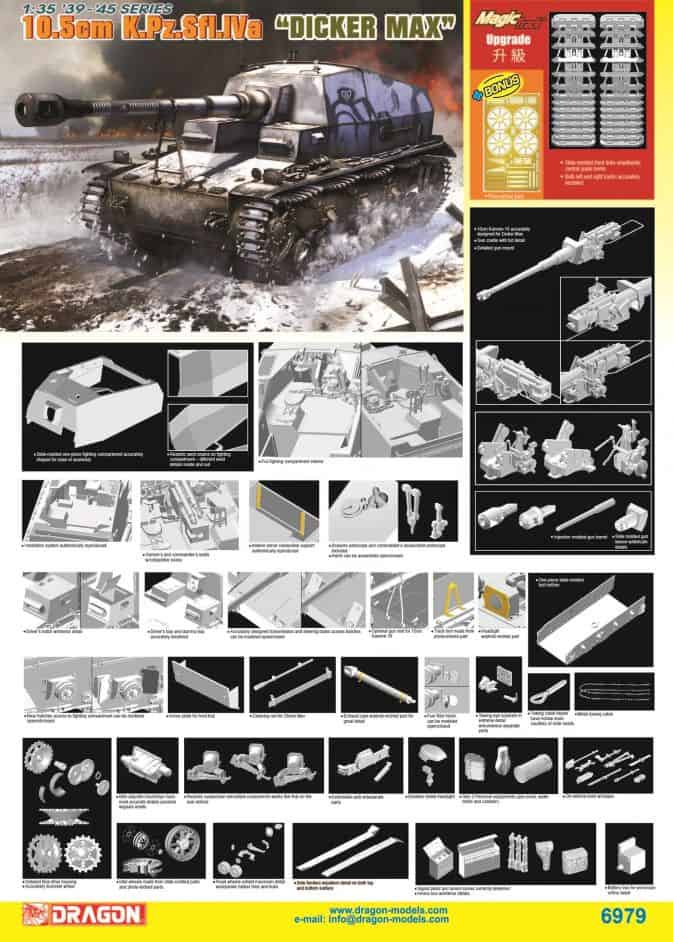 Also included with the kit is a number of upgraded parts, including both photoetch detailing and MagicTrack track links that use realistic methods to connect the track links to one another. Overall, Dragon's new Dicker Max is a very complex kit, not only with a lot of small details, but also with individually linked tracks that need to be assembled by hand. I would only recommend this to very experienced modelers looking for a challenge or sadists with little to no experience with scale modeling.
If you are interested in purchasing or learning more about Dragon's new 1/35 scale Dicker Max, I highly recommend that you visit both Dragon's website and scalemates.com, where additional information regarding technical details and where the kit can be purchased can be found.
Happy Modeling!
Image credit: Dragon Models