Coming Soon: MiniArt 1/35-scale Yugoslav Wars T-34/85 Kit
MiniArt recently announced that it is working on a new 1/35-scale rendition of the T-34/85 based around the Yugoslav Wars. This is something that many modelers will be looking forward to as the Yugoslav Wars are a topic that is avoided by most major modeling companies, and finding a designated Yugoslav Wars scale kit is very difficult.
From what has been released thus far, it appears that the kit is going to be molded with durable high quality plastics in addition to a number of photo-etched parts. According to the statement MiniArt released, the kit is going to feature plastic parts that accurately display weld lines and metal surfaces, something that I'm sure will add a lot of extra detail to the finished product.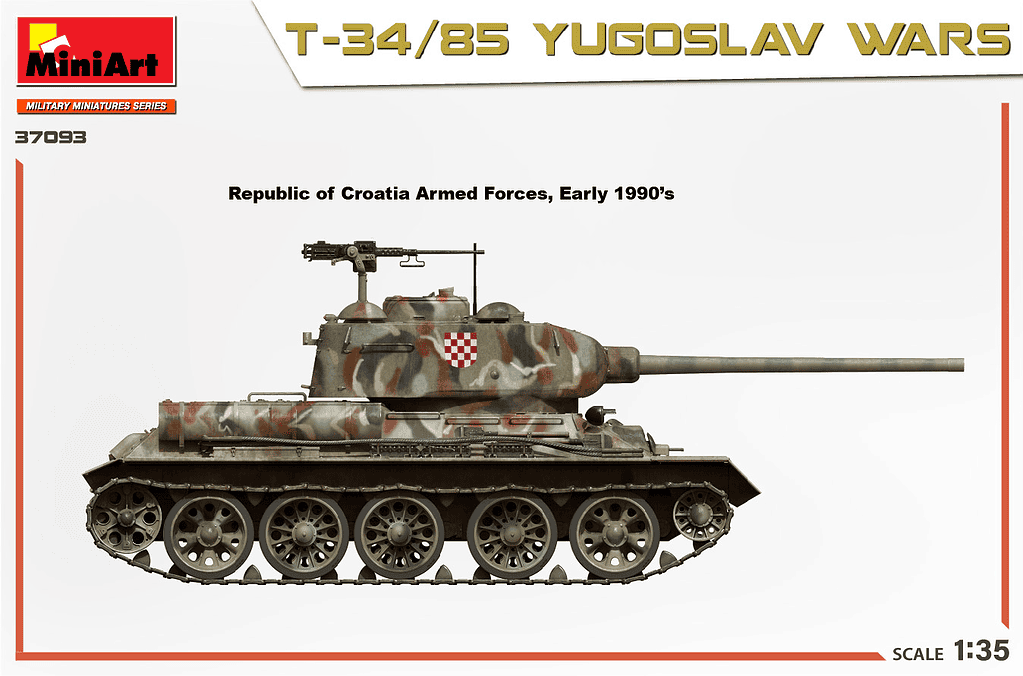 The hatches that are included with the T-34/85 can be posed either open or closed, therefore it will be possible to add 1/35-scale figurines to your build. It should also be mentioned that in addition to the previously mentioned features, MiniArt's Yugoslav Wars T-34/85 will also include individual track links which will allow for more accurately depicted tracks.
In regards to paint and marking schemes, the MiniArt Yugoslav Wars T-34/85 is going to come with decals for 5 different vehicle variations. These include 1 Bosnian T-34/85, 1 Serbian T-34/85, 1 Croatian T-34/85, and 2 Yugoslavian T-34/85s.
I am really looking forward to the release of MiniArt's 1/35-scale T-34/85 Yugoslav Wars scale model set and will be keeping an eye out for a release date. If you want to learn more about this kit, visit miniart-models.com.
Happy Modeling!
Image credit: MiniArt