Tamiya 1/35-scale Russian Heavy Tank KV2 Kit
If you're a modeler looking for an intermediate level build of a cult classic military vehicle, you are going to love the topic of today's article. Today I would like to bring some attention to Tamiya's 1/35 scale Russian Heavy Tank KV-2 (35375). Tamiya has wonderfully captured the detail of the legendary KV-2 in 1/35 scale, features such as tow hooks, tow cables, and tracks being beautifully rendered in classic Tamiya fashion. A number of 1/35-scale Soviet tankist figurines are also included with the KV-2, adding another level of fantastic realism to the build.
In addition to all of the fantastic features previously mentioned, Tamiya also includes a number of decals to add to your 1/35-scale KV-2 build. The decals included allow you to model your KV-2 after both Soviet and German KV-2s, as they saw service on both sides of WWII.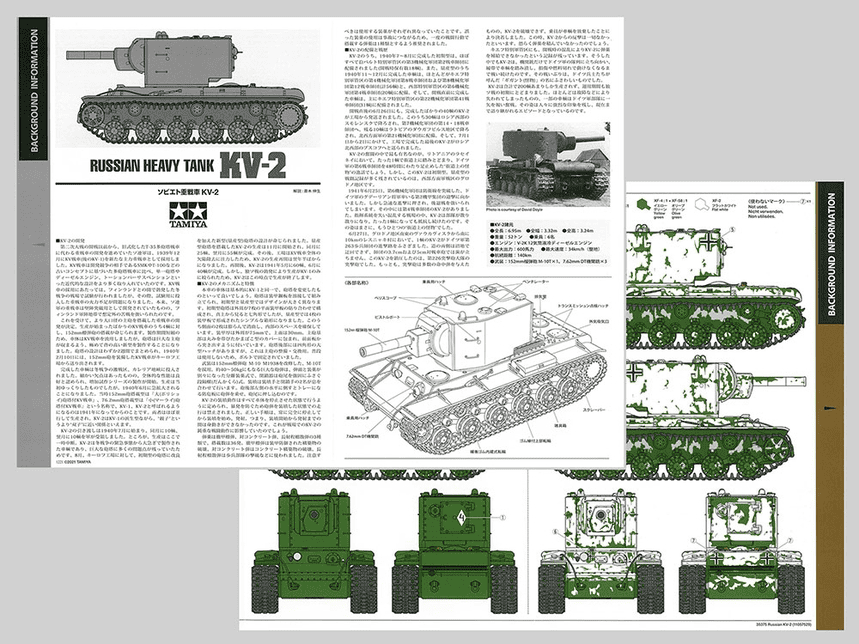 Overall, I think that Tamiya has done a lovely job with turning the famous KV-2 into 1/35-scale and I look forward to discussing more of Tamiya's products with you all, as I feel that they are one of the best companies to look into when it comes to scale modeling. If you are interested in learning more about or purchasing Tamiya's 1/35 scale Russian Heavy Tank KV-2 (35375), I urge you to visit Tamiya's website or visit your local hobby shop, where you can find this kit retailing for around $68.00.
I hope you all found this to be informative, and I hope to see you again another time. Happy modeling!
Image credit: Tamiya